Okay, here comes my Rogue guide… and this is for people that don't really want to go farm BT or anything like that.
Ah yes one more thing, I use the word fuck, either get over it or don't read my guide…
Step 1: Gear!
Well, gearing is one of the most important things. Some say you should blend T6, S4 and BT drops I say screw that… takes too much time and isn't that much better…
What you will need is a full S4 with the WoW-trance neck. +10 critical strike rating for all yellow slots and +20 AP for all red and for the meta you should use +12 agility +3% critical strike rating but only Jewelcrafters can make them, so either get a JC or just go with the +24 AP and minor speed increase… (minor speed increase is very good actually, you can catch up to fleeing foes even if you already used Shadowstep on something else...
The rings should in my opinion be The S4 (Guardian's) and S3 (Vindicator's) ring of Triumph or switch the S3 ring for Band of the Ranger General, trinkets are harder… You should in my opinion have
The Tsunami Talisman for the nice critical rating boost and VERY nice AP boost when it procs, which it does… A LOT, the PvP Trinket of course and you might want to get Dragon spine Trophy and Moroes' Lucky Pocketwatch, also, Tsunami Talisman and Dragon spine Trophy are better for mass PvP where you have a healer or at least a bit of backup…
The following are also nice choices, I however do not use them; Renataki's Charm and Bloodlust Brooch.
Now for the cloak, or should I say cloaks… From good sources I have heard that a Dory's Embrace with a +12 agility enchant is good, but you can also have a backup cloak in your bag for when you are fighting other Rogues, that would be with the enhanced stealth enchant.
Weapons?
Use anything that works for you and your spec, dagger for ambush, swords for stunlocking, maces for massive Hemorrhages and stunlocking. In my opinion, don't go for Daggers, sure it's great for backstabs and for all those people with low health that die from one Ambush, but in the long fights it won't last.
Also for ranged I use either the S4 throwing axe or a gun named Barrel-Blade Longrifle
As for the Eradicator set… If you plan on getting them… then this is my advice…
FUCK THE SHOULDERS!!!
Get the chest, followed by the boots, belt and bracers and btw having 120 energy is VERY nice.
Edit: Ok, You should go to Skettis in Terokkar Forest and get some scrolls and use them seriously, they are awsome.Second Edit: I always keep a totaly unnecessary ammount of supplies in my bags, for example: I always carry around 320 Clefthoof Ribs, 80 Flash Powders, 40 Thistle Tea, 40 Crippling Poisons, 40 Wound Poisons, 20 Deadly Poisons and 20 Mind Numbning Poisons, 25 of every scroll, 25 Shattrath Assault Potions and I currently have 2400 Timeless Shells, that way I never really need to go and restock, I could go on a killing spree for DAYS, however unfortunately my gear will be broken long before I run out of supplies. But this is really up to you, how much space do you want to have left and how well supplied do you want to be?
Step 2: Know your class!
Play around a little with all the different specs, find what works for you, and make sure you know what abilities don't work.
And yeah here is the standard stunlocking process in my opinion of course:
Sap, Cheap Shot, Hemorrhage, Hemorrhage, Kidney Shot, Hemorrhage, Thistle Tea, Hemorrhage spamming, Blind, wait 7 seconds and then redo it.
And if your KS CD isn't gone, sap until it's finished...
Stay the hell away from assassination since most of the talents don't work properly; check this picture for a list of what is/isn't working…
Green: Works.
Red: Broken and just flat out doesn't work.
Yellow: Sometimes/semi works.
Purple: Not worth speccing into.
Blue: Visual only which means you get the buff but it doesn't do anything.
Orange: Unsure.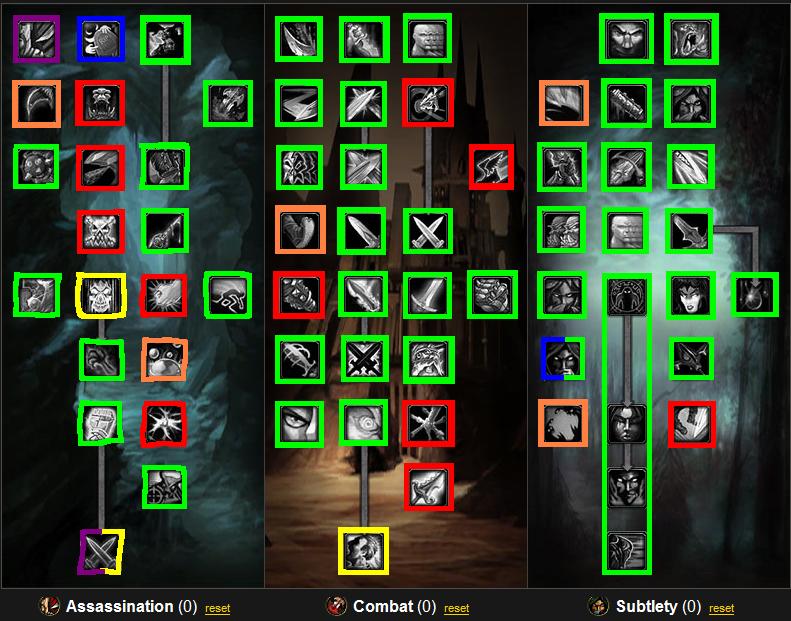 In my opinion the
Subtlety
spec is the best choice.
[ At the bottom you will find my spec and also Lustly's spec. ]
Step 3: Know your class bugs!
Every class has several bugs and here is some useful info on Rogue bugs I have found…
[Little bit of an edit here, They fixed Shiv... a bit...]
#1 Shiv
, Shiv doesn't apply the offhand poison... That's it..
#2 Hemorrhage
, This is quite old and perhaps everyone knows already but Hemorrhage got fixed and does damage and adds combo points.
#3 Riposte,
Riposte actually procs off dodge.
Step 4: Know your enemies!
Know your enemies, get to know good players of each class; it'll help you learn how to defeat the better players in duels.
Okay, here come the interesting parts… And remember this is not THE way to play, it's just my ideas and the way I play.
Warrior;
Riposte works well against them and also you should have the trinkets Moroes' Pocketwatch, and the PvP trinket.
Keep them disarmed as much as possible and try to keep crippling poison on them so they don' run away to stun you, DO NOT attempt to stun them too much, if you are going to stun you need to do it from FULL energy otherwise second wind will heal the warrior so your damage won't do shit to them… Hold them still at the start of the duel with sap and open with garrote, keep as many DoTs on them as you can without sacrificing melee DPS. You should have enough dodge and damage from the agility and Pocketwatch to keep them disarmed and more or less harmless. Remember Cloak of Shadows removes almost all their DoTs, I think…
Paladin;
Treat Retribution Paladins and Protection Paladins like warriors, keep them DoTed but don't bother with the crippling poison. When they bubble, step back, wait 7 seconds then re-stealth. (You wait 7 seconds because everyone hates stealth-bug abusers)
Stunning Paladins is fine, but remember Ret Paladins can hit like hell and at least try to stand behind Protection Paladins to negate all that blocking.
Holy Paladins are NIGHTMARES, if they know what they are doing of course,
crappy damage output, but they are almost impossible to kill while they are spamming heals on themselves, keep wound poison on both weapons and hammer at them, try to get slice and dice up and then get a full KS on them.
Shaman;
Enhancement Shamans, quite the same as Warriors and Retribution + Protection Paladins use all the dodge you can get dodge, simply It's just a Retribution Paladin without the stuns, just remember that it won't take very long for them to kill you if you really fuck up, or if they get lucky, shit happens, so just cross your fingers and hope for the best if they whack you.
Elemental/Restoration Shamans... I hate them. Open with Sap them and kill their totems if they have them down,
DESTROY THE DAMN SEARING TOTEM
... the single hits don't do much, but after a while you are going to notice that you have lost a lot of health.
Once you have taken down their totems stealth back up and Do the whole stunlock process, keep wound poison on your MH and crippling on your OH, remember that Cloak of Shadows will remove frost shock so you can stay right on their ass. Kick is your best friend if they are about to heal, and don't be afraid to blind/vanish or gouge/vanish.
DO NOT gouge re-stealth FFS.
If they know what they are doing you will be in for a tough time, but fortunately, there are a lot of idiots out there to make you look good. =D
Druids;
Feral, run away frankly... But if you must attack, keep them DoTed and keep them stunned as much as possible and also remember Cloak of Shadows is your friend.
Doomkins, pretty standard fight, keep crippling poison on them, keep smacking at them and they will go down, when they cyclone you and change to normal form that's a golden opportunity, if you have Shadowstep. Use the trinket then Shadowstep, KS and end them, otherwise trinket and sprint.
Restoration, annoying to kill but not impossible, it's all about timing your stuns and keeping 5/5 wound poison on. They'll probably open by putting a HoT on themself, sap them until the HoT wears off then do the whole stunlock process.
Hunters;
Underplayed, most hunters don't know how to use their class to its full potential, get in there and hammer them and watch out for traps, Shadowstep will help allot with this fight, as will sprint and Cloak of Shadows, unless you are fighting a good hunter you'll have no problem, try to sap them before they flare otherwise it's a pain to open on them, but you can still open, without sap though, because you can't get that close, you will just have to use Shadowstep and Cheap Shot.
Mages;
Squishy to hit, but they hit back real hard, try to get rid of all their stun escape options, idiot mages wont blink out of stuns, they will die easily, more intelligent ones will do it to break your CS, Get in damage fast and hard. Use the Trinket to get out of Polymorph, because a free spell HURTS. Shadowstep/sprint after they blink out of CS, they will probably blast a frost nova on your ass, the second they do hit Cloak of Shadows and get right back on them and KS them, if you have high enough DPS that should end them, otherwise follow them, deadly throw or ranged weapon may come in handy to finish off the last few HP if your DPS is... lacking.
Warlocks;
Think mages, but with the HPx2 and fears instead of stun breakers. Smart warlocks are a bitch; luckily there aren't many of them around…
If the Warlock has a pet, then sap the warlock and kill the pet, then the warlock will either pop the trinket or let the pet be killed... if they pop the trinket be ready to hit them with all you've got and stun alot but preferably only when you have full energy, so make good use of the Thistle Tea.
Keep them stunned and keep hitting them, if you see Soulfire coming
FFS USE KICK
or Cloak of Shadows because that spell hurts like a bitch.
Priests;
Uh... does anyone duel as a Priest? However, Healing Priest can be Annoying, to some extent... I never had an issue with priests though…, DPS them to death, shouldn't be a massive problem and yeah, don't use Cloak of Shadows until they have all their DoTs on you.
And finally, Rogues;
Ah yes… and of course, the ever so popular "blah blah blah I'm a better Rogue then you are, blah blah blah noob!"
Rogue vs Rogue duels
SUCK
frankly, you have 2 options, stunlock or be stunlocked.
There is no real plan for what to do if the Rogue trinkets out of KS imo... just try to get in to the stunlocking again...
preferably by using blind...
And of course if you are fighting stealth-bug abusers it means you will probably lose…
Don't QQ about it when you lose to someone that gouge/stealths multiple times, it's not worth it, if people are watching then they will know you enemy is bug abusing.
Use the standard stunlocking, The key to winning is really just being first…
If they get the first attack be ready to Use PvP trinket and gouge when they hit the KS.
My Spec:
And if I remember right, this is Lustly's Spec: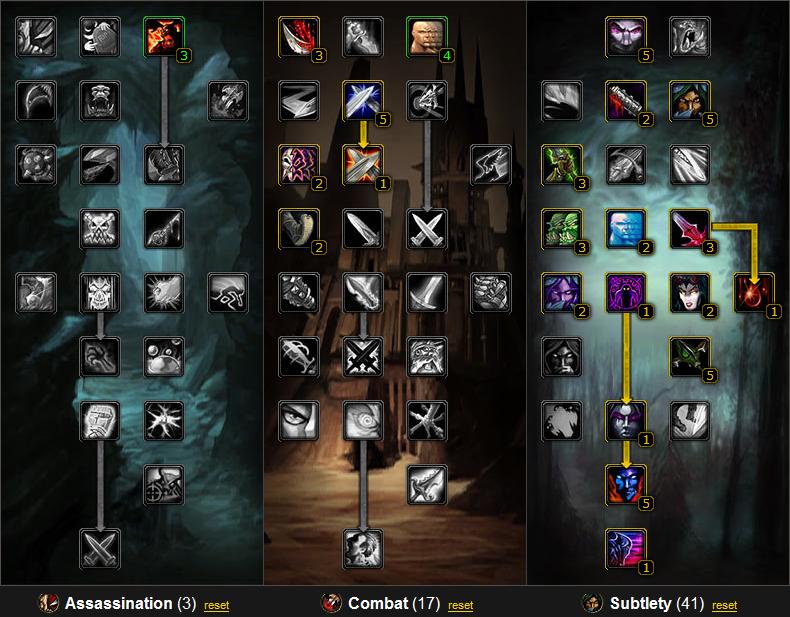 Thank you for reading my guide